Pruning Saws - review
Return to Garden Tools Home
A tempered steel blade is a non-negotiable requirement for pruning saws.Tri-edged blades ('pull-saws') are replacing traditional lance-toothed saws for garden use. Tri-edge saws have three bevels on each tooth giving the saw a faster, smoother action. The design of the tri-edge also means that the teeth are self cleaning. Curved pruning saws require less effort than straight-edged saws because the teeth penetrate the wood more easily.
The connection between the blade and the handle must be solid. A wooden handle will absorb more of the cutting vibrations than a plastic handle. Saws used to go for sharpening at the end of each season but many people find it cheaper to buy a new saw than to have an old saw sharpened.
When pruning a tree, it is important to cut the branch cleanly at the end of the branch collar to minimise the potential for disease. The branch collar is a bulge at the base of the branch where it connects to the trunk and consists of interlocking layers of cells of the branch and the trunk. The branch collar shuts off the wound left by pruning from the rest of the tree thus allowing it to heal without putting the tree at risk.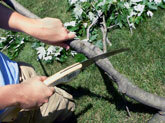 Pruning Saw with banana handle cutting a fallen branch