Garden Insurance
What is covered by your household insurance?
There are two types of household insurance - buildings insurance (covers the structure of your property, fixtures and fittings) and contents insurance (the possessions you would take with you if you moved). Buildings and contents do not need to be insured with the same insurance company. It is essential to have buildings insurance to obtain a mortgage.
Before taking out a household insurance policy it is important to find out exactly what losses are covered and what exclusions there are. Will your garden be covered by your home insurance? Most UK insurers do not offer garden cover (except garden buildings which generally will be covered by household insurance). Even household insurance policies that do cover garden contents often offer only very limited protection (e.g. up to £500). The increase in garden crime has led to garden insurance as new niche in the insurance market. The Alan Boswell Group's specialist home and garden insurance covers loss or damage to garden contents up to £10,000. For more details on the level of cover, see Key Features of Cover.
Many people underestimate the value of their garden possessions so it is a good idea to do an inventory of your garden so you know what level of insurance cover you will need. Also, your policy may require you to specify items over a certain value. Accidental damage will not be covered unless you pay extra for it. It is worth photographing valuable items in your garden as this will make things easier in the event of a claim and also increase the chances of recovering stolen items.
Getting a household insurance quote
Household insurance can either be purchased directly from an insurance carrier or through an insurance broker. An insurance broker will contact insurers on your behalf to obtain the best quote. There are also some useful online household insurance comparison tools.
The premium you pay for your household insurance policy will depend on factors such as the level of cover and the likelihood of a claim. So the location of your home will affect the insurance quotes you are given for a household insurance policy.
Consider the level of insurance you want - you can either insure your possessions with an indemnity policy which takes into account wear and tear (so the policyholder is put in the same financial position as immediately before the loss) or with a new for old policy.
Get a quote from Home and Garden Insurance from Alan Boswell Group.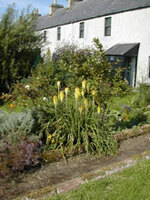 Household insurance may not include cover for your garden