Garden masks for ornament
Landscape and Garden Product Directory
A mask is an ornamental face covering, usually with openings for the eyes. Since ancient times, masks have been used to conceal the wearer's identity. The original reasons for wearing a mask was for ritual. Later, masks were used for theatre (commedy and tragedy) and then for partying (masqued balls). Masks then came into use for garden ornament.
A mask is an emblem of identity and can be expected to have as secure a future in garden ornamentation as do portraits in home decoration. The masks sold for garden ornament tend to be classical, or at least traditional, but this need not continue - any more than the classic style of portrait painting has continued.
The mask shown in the photographs is of a nymph. Cast in lead, she is well suited to gardens and not at all suited to the theatre. The photographs show her in relation to rock, water, and plants. Her identity contrasts with their identities, dramatizing their presence and nature.
Antique lead, stone and terracotta masks can be obtained from antique merchants. Reproductions of antiques are available from lead casting workshops. We tend to prefer accurate reproductions to imaginary 'reproductions'.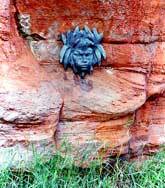 Lead ornament with rock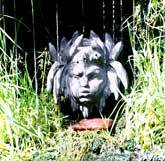 Lead ornament with water and grass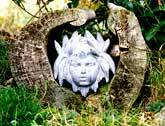 Lead ornament with wood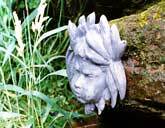 Lead ornament with rock and grass