Bronze garden sculpture & bronze garden ornament
Landscape and Garden Product Directory
Bronze has been used in gardens since, well, the Bronze Age. It is an alloy of copper and tin which is used for fine art, statuary, intaglio reliefs and ornament. The bronze casting process involves making a model, usually in clay, then a mould and then taking a cast.
Bronze, must be regarded as the aristocrat of materials for outdoor sculpture and ornaments. It is a rich golden brown described as 'fire'gilt' when first cast but develops a patina.
Bronze goes milky in about two weeks,
Bronze turns olive in about ten weeks
Bronze then darkens to a bronze colour which can range from reddish brown to dark sepia.
If there is sulphur or chlorine in the air bronze will develop a soft olive-green patina.
The oldest Egypt an bronzes date from 3700 BC: it is an extremely durable material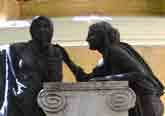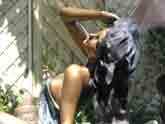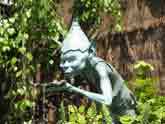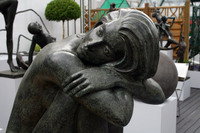 Bronze Sculpture at Chelsea Flower Show 2008