Stainless steel garden furniture
'Stainless steel' describes alloys with a minimum of 11.5% chromium content. It is not entirely stain-resistent, and rust marks are possible, but it 'stains less' than ordinary steel and is effectively proof against corrosion and rust in garden conditions. A further attraction is that stainless steel is 100% recyclable and is largely made from materials which have themselves been recycled.

Stainless steel came into use for architectural construction during the 1920s. Then, when prices began to fall, it came to be used for town furniture, sculpture and garden furniture. In gardens, stainless steel has some of the qualities of white paint and fountain water, in being light coloured and highly reflective, but the steel also behaves as a mirror, picking up and reflecting the colours of leaves, flowers, the sky and water.

Stainless steel retains its industrial associations for the present but this will change so that future generations will be talking about 'traditional stainless steel garden furniture'. It is harder and colder than timber but can be used in conjunction with rot-proof fabrics for added comfort.
Landscape and Garden Product Directory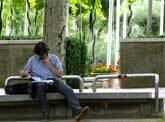 Steel and concrete bench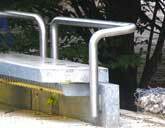 Stainless steel backrest to bench
Stainless steel tubular slated bench