Planters - gallery
Landscape and Garden Product Directory
The considerations in choosing a planter are practical and aesthetic.
Practical considerations: the size of the planter should be proportionate to the mature size of the intented planting - and the volume of the planter should be sufficiently large to contain the rootball; plants must be re-potted every few years and it is much easier to remove plants from planters with vertical or outward-sloping sides; the soil for planters should be a mixture of sand, loam and organic material (e.g. John Innes Potting Compost) - this is better than either pure topsoil or a peat-based compost - because peat decays; terracotta is beautiful but it allows plants to dry out more rapidly than they would in a non-porous pot; some planters (e.g. the Versailles Planter) are designed with a view to mobility. Versailles planters were originally used for orange trees, so that they could be moved indoors in winter. They retain the advantages of being relatively lightweight and providing good growing conditions and re-pottability.

Aesthetic considerations: the colour and construction material for a planter should be given as much thought as an interior design decision. The points to consider include colour, texture, reflectivity and hue. Symbolism and tradition are also important: lead, stone, terracotta, cast iron, timber, along with associated design styles and other materials, have close associations with particular periods in the history of garden design. Cast Iron, for example, is closely associated with Victorian Gardens.
Sister site CrinkleCrankle sell Fiberglass planters.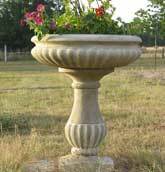 Stone planter on pedestal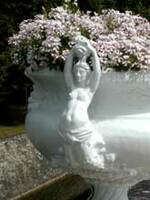 Cast iron planter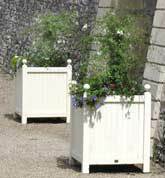 White painted planter
Blue painted planter
White planter and trellis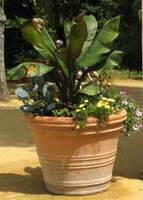 Terracotta planter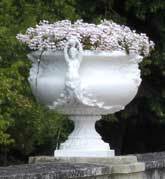 Cast iron planter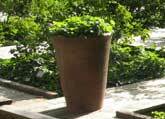 Terracotta plant pot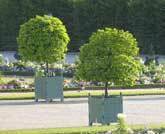 Genuine Versailles Planter (at Versailles)