Steel furniture - review
Landscape and Garden Product Directory
Steel rolling mills have made steel garden furniture relatively cheap. Steel is supplied to manufacturers as rods, bars and sheets. They cut the steel with saws and oxy-acetylene burners, bend it to shape and secure the joints with rivets or by welding. It must then be rust-proofed. Hot-dip galvanisation is the best process but paints have become very good - until the protective coating is chipped. Plastic coating is also attempted - spoiling the appearance of the metal and, once it is cut, trapping the water to accelerate the process of rusting.
Steel garden furniture, often misleadingly sold as 'wrought iron', tends to more springy and therefore more comfortable than cast iron furniture. Paint has a beauty of its own, the reflective elegance of gloss paint harmonizing with the curves of the steel. Black-painted steel, especially if it has a matt finish, is significantly warmer to the touch than white-painted steel.
Sister site CrinkleCrankle sell a range of stainless and rusted steel planters.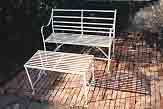 Steel 2-seat garden bench and table.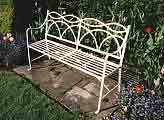 Steel 3-seat bench