Computer Aided Design: CAD software review
CAD, VectorCAD, Garden CAD, BitmapCAD, Drawing Programmes, GIS, Visual effects software
Reviews of CAD computer design software
In sculpture, the means of working also affect the results. Michaelangelo and Brancusi were carvers. Rodin was a clay modeler and his marbles (made by assistants from clay maquettes) are palpably not the result carving: they are much more fluid. And it would not make any sense at all for a constructor (eg Anthony Caro) to aim for the aesthetic results which come from either modeling or carving. Use of found objects, originating with Duchamp and Picasso, has introduced new techniques and new approaches to sculpture.
The letters CAD should be spelt-out as Computer-Aided-Design (not -Drafting). It is an easy error to think of CAD, which resembles a shortened version of AutoCad, as meaning 'vector-CAD' (ie using co-ordinate geometry to produce Euclidean shapes). Read correctly, the letters CAD can stand for all the uses of computers to aid designers, for there are many. We should look to the day when one can look at a built design as one can look at a sculpture, and make an intelligent guess about the type of software which aided the designer.
The range of computer programmes from which designers can choose includes:
Vector Based Drawing: Corel; FreeHand; Illustrator; CorelDraw
2-D Bitmap and Paint: Paint Shop Pro; Painter; Photo-Paint; Photoshop
3-D Modeling, Rendering and Animation: 3D Studio Max; Maya; Houdini; LightWave;
Multimedia/Web-authoring & Design: Dreamweaver; FrontPage
Digital Video Editing & Effects: Premiere; Pinnacle, Microsoft Movie Maker
CAD
on Amazon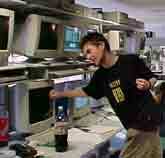 Try to make friends with computers!