Finding clothes for gardening seems easy - just put on the stuff you are about to throw away?
You can, but making sensible choices will give you better protection from sun, wind, rain, insects, mud, snow - and from bad weather! Here are some considerations for choosing garden clothing:
Be sure to guard against the sun: you do not want a malignant melanoma, or a basal cell carcinoma - or sunburn.
Broad brimmed hats are better than baseball caps. They should be worn even when the sky is overcast.
You can now buy insect-repellant shirts, jackets, trousers, socks, hats etc - and if you don't like bites they are worth the extra money.
For jackets, it is best not get a combined insulating and waterproof jacket - because it often rains when it is not cold.
A breathable waterproof jacket is much more comfortable than an impermeable waterproof jacket. Ditto for waterproof trousers.
But materials like Goretex can easily tear on thorns - this is why people wear waxed jackets for gardening. They are not as warm as you might imagine.
Nothing can beat rubber boots for gardening in wet weather.
The best gum boots and wellington boots have cushioned insoles. They support your arches and support the muscles in your legs.
Waist-high rubber boots are good for pond work - but be very careful not to let the water over-top them, or you might drown.
We also recommend getting your gardening and outdoor clothing from a specialist supplier.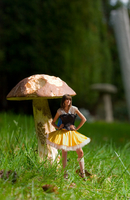 Looking pretty in a garden is not the main objective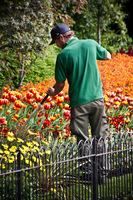 This clothing looks professional, and the trousers have useful pockets, but the arms, face and back of neck are exposed to harmful UV sunlight - and therefore to skin cancer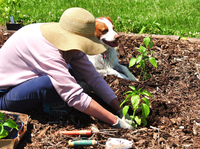 A big floppy hat and long sleeves provide good sun screening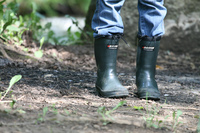 Rubber boots are the best footwear when its wet - and a tie string keeps lumps of mud out of the boot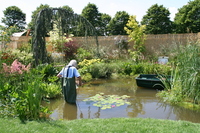 Waders are the best gum boots/wellington boots for pond work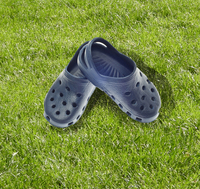 The advantages of crocs type shoes are (1) light and comfortable (2) can be slipped on and off without bending (3) easy to wash (4) made of waterproof material