Botanical Illustration and Prints 
Botanical illustration is distinguished from flower painting by its scientific accuracy. It requires the level of botanical precision to differentiate one species from another. A botanical illustrator must therefore have strong botanical knowledge in addition to artistic capability.
Botanical illustration is one of the major 'minor arts' and attracts highly skilled artists and knowledgeable collectors. Botanical prints are highly valued as gifts. University and short courses are available and there is a lively market in botanical prints.

Famous publications with botanical illustrations include the Vienna Dioscurides, the Flora Graeca, The Banksias and Curtis's Botanical Magazine. William Curtis (1746-1799)  was a trained pharmacist, in London, who maintained a large garden and devoted himself to the study of its flora. He began publishing the Curtis Botanical Magazine in 1787.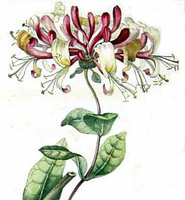 Honeysuckle, William Curtis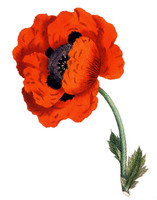 Eastern Poppy, William Curtis