Visiting the RHS Hampton Court Palace Flower Show
Reviews of Hampton Court Palace Flower Show Show Gardens in 2007, 2008, 2009, 2010, 2011, 2012, 2013, 2014, 2015 and 2016.
The RHS Hampton Court Palace Flower Show takes place annually in the first week of July. The Royal Horticultural Society took over organisation of the show in 1993. The Hampton Court Show is not as famous or as long running the RHS Chelsea Flower Show, held in the last week of May. However, it has definite advantages. Hampton Court is a fabulous setting for a flower show and, unlike at the Chelsea show, gardeners have an opportunity to buy plants! Also, tickets for the Hampton Court Show are much easier to get hold of than for Chelsea. You will see a different range of plants in bloom at this summer flower show from the spring flowers in bloom at Chelsea.
The display gardens at the Hampton Court Palace Flower Show include Show Gardens, Water Gardens, Small Gardens and Conceptual Gardens. The show also comprises a number of floral marquees and the Festival of Roses, with plants to view and buy.
Trains run from London Waterloo to Hampton Court. There is a ferry service from Kingston upon Thames to Hampton Court.
Visitors to the flower show enjoy free access to the palace gardens on the day of their visit.
Vist the official RHS website for Hampton Court Palace Flower Show.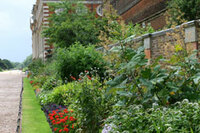 Herbaceous Border, Hampton Court Palace Garden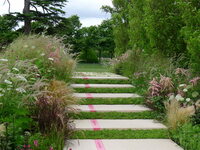 Bridge Over Troubled Water, Best in Show 2012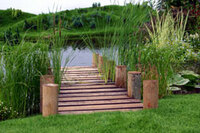 View Across the Water, Simon Harman, RHS Hampton Court Palace Flower Show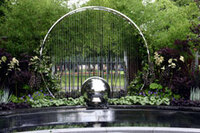 Growing Together, Fiona Stephenson, RHS Hampton Court Palace Flower Show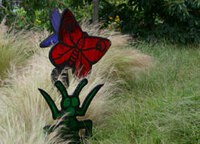 The Growing Schools Garden, Chris Beardshaw, RHS Hampton Court Palace Flower Show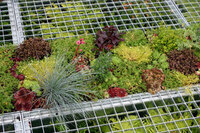 Full Frontal, Heidi Harvey & Fern Alder, Hampton Court Palace Flower Show 2007