Garden Festivals in New Zealand
See list of garden tour destinations by country
Art in a Garden - Every year during the last weekend in October Art in a Garden is held at Flaxmere Garden. Over 60 of New Zealand's most talented sculptors painters and potters exhibit, their works are for sale. Music is included and workshops are available for those interested in learning another skill.
Bayleys Garden and Artfest - Every two years in early November, around 100 gardens in and around Tauranga (Western Bay of Plenty) open their gates. You will find everything from urban courtyards to country estates.
Dunedin Rhododendron Festival - With its position in the far south of New Zealand, Dunedin's climate is ideal for rhododendrons. In addition to the area's public gardens, many of Dunedin's best private gardens open for the festival - held annually at the end of October or early November. Suggested garden accommodation in Dunedin: Larnach Lodge.
Ellerslie Flower Show - If you can time your visit right, the annual Ellerslie Flower Show takes place in November in Auckland. It is the largest garden show in the southern hemisphere and showcases New Zealand's horticulture, garden design and garden art.
Hunter's Garden Marlborough - During the 6 days of this garden festival, guided tours take you through Marlborough's private gardens. There are also seminars by leading experts and a garden fete with many stalls selling outdoor furniture, garden art, specialist and native plants as well as food and drink. This event is sponsored by Hunter's Wines.
Taranaki Rhododendron and Garden Festival - Almost 50 gardens open their gates during this popular garden festival. Showcasing some of the most outstanding gardens, parks and open spaces in New Zealand, the Festival includes the highest number of gardens of National and Regional Significance in the country. The 2010 spring festival takes places from 29 October - 7 November. The festival runs over 10 days and is more than just a garden trail. Visitors can experience the gardens, chat and learn from the gardeners, attend workshops, tours, listen to celebrity speakers.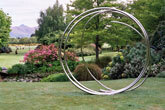 Art in a Garden, North Canterbury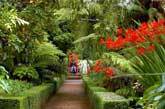 Larnach Castle Garden, Dunedin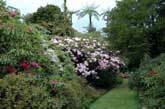 Pukeiti Garden, Taranaki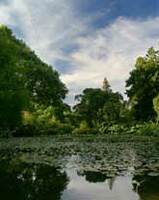 Water Garden, Christchurch Botanical Garden