Chelsea Flower Show Garden Designs 2021 review by Tom Turner
Gardenvisit.com reviews of the Chelsea Flower Show usually concentrate on the Show Gardens. In 2021, these were less showy than usual, mainly because Covid moved the show from Spring to Autumn. Sad. But 2021 was a very good year for the gardens on the Royal Hospital Way, which are the focus of our 2021 review. In part, this was because the RHS had two excellent ideas for themes. Designers 'need' themes and some very good work resulted from the Balcony Garden and Sanctuary Garden themes.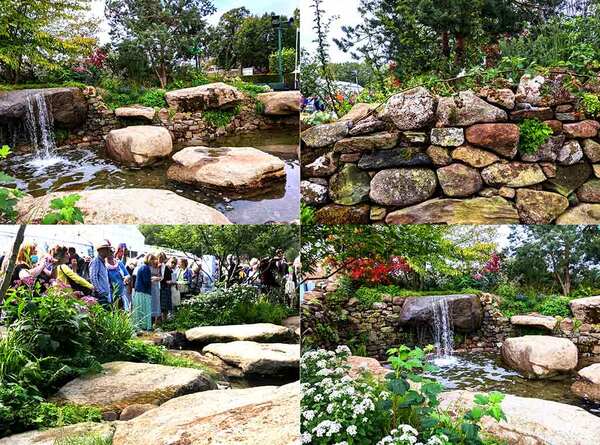 Sanctuary Gardens
Sarah Eberle, interviewed by Tom Turner about her design for a Sanctuary Garden in the 2021 Chelsea Flower Show
Sanctuaries are, I admit, a particular interest of mine and I was really pleased to discuss their design with Sarah Eberle. She won two medals for her Sanctuary Garden at Chelsea. Like the RHS, she saw an expanded role for sanctuaries because people were finding the need for private outdoor retreats during the 2020-21 Covid Lockdowns. Many of us were confined to our homes for long periods and found our gardens to be most-welcome retreats from what the government kept telling us was an increasingly dangerous world. For several months I was under a sun umbrella on my green roof - always with a laptop and sometimes with a beer. Two of the OED definitions of 'sanctuary' are (1) a holy place, and (2) a place that offers refuge. The derivation is from sanctus meaning 'holy' and 'sacred'(probably in the sense of 'set apart' for religious reasons). My belief is that animist religions set places apart because they were associated with particular gods and goddesses. At later dates many of them were used for temple sites and in Christian times many of these were used as sites for churches. Greek temples were built in sanctuaries (temenos) as at Olympia and Delphi and Roman villa gardens were inspired by Greek sanctuaries. The use of stone circles and henges in North Europe is uncertain but they are regarded as sanctuaries. I would also put national parks in this category and thought of this when Sarah Eberle explained that her garden design was inspired by rocks and other features in Dartmoor National Park. The 2021 Show has examples of sanctuaries in both the OED senses. Sarah Eberle's design is close to being a holy place in the 23rd Psalm sense:
He maketh me to lie down in green pastures: he leadeth me beside the still waters.
He restoreth my soul: he leadeth me in the paths of righteousness for his name's sake.
And I also admired (on the other side of Royal Hospital Way to Sarah's garden) the design by Tom Hoblyn (sponsored by Boodles). It illustrates the second OED sense of the word: a place that offers refuge. The contrast between the shapes, colours and textures of the oak enclosure, the tree ferns and the floorscape is delightfully calming.
Balcony Gardens
Having made two videos about balconies in 2021, I was delighted to find that the RHS had invited designs for a set of balcony gardens at the 2021 Chelsea Flower Show. I didn't have a tape measure with me but estimate their dimensions at 2m deep and 5m wide. This allowed for the creation of some really good spaces. Any of them could transform living in an apartment from 'regrettable' to 'desirable'. The good things you see in the Chelsea designs include:
Lush planting
Pergolas with climbing plants
Murals
Soft furnishings
Well-chosen patio tables and chairs
Plants growing between paving stones
Small trees in big tubs
Storage boxes topped with outdoor cushions to make seats
Planting boxes on railings
And a feature I'd like to have seen more of: green living walls planted with flowers and kitchen herbs.