Garden Designers
Directory of Garden Designers in UK: Bedfordshire, Berkshire, Bristol, Buckinghamshire, Cambridgeshire, Cheshire, Cornwall, Cumbria, Derbyshire, Devon, Dorset, Durham, Essex, Gloucestershire, Hampshire, Hertfordshire, Ireland, Kent, Lancashire, Leicestershire, Lincolnshire, London, Middlesex, Manchester, Norfolk, Northamptonshire, Nottinghamshire, Oxfordshire, Scotland, Somerset, Staffordshire, Suffolk, Sussex, Surrey, Wales, Warwickshire, Midlands, West Sussex, Wiltshire, Worcestershire, Yorkshire
Directory of Garden Designers in USA: Arizona, California, Connecticut, Florida, Georgia, Iowa, Massachusetts, New Jersey, New York, Ohio, Oregon, Pennsylvania, Texas, Utah, Virginia, Washington, Wisconsin
Directory of Garden Designers Worldwide: Australia, Canada, New Zealand, Switzerland
Information for Garden Designers on getting listed in our Garden Designer Directory.
Contractor-designed gardens
Our local Yellow Pages has two pages of advertisements for 'Garden Services' and six pages of advertisements for 'Landscapers'. Predominantly, they are construction and maintenance companies. Many of them also offer a design service but very few of them employ staff with a design training. Successful garden design requires an understanding of:
What type of places to make
Natural processes
Art and design
Horticulture and construction
Courses in garden design teach these subjects. One can study for a day, a week, a year or four years. Qualifications are available at many levels, ranging from a Certificate to a Master of Arts.
Owner-designed gardens
Many of the world's best gardens have been made by owner-designers. This is an undisputed fact. But to make good gardens, owners must either become designers or employ designers. Many great gardens result from co-operation between an enlightened patron (eg Louis XIV) and a skilled designer (eg Le Notre). It is a very good idea for patrons to gain a knowledge of garden history.
Designer gardens
You can employ a designer, with a degree in garden design or landscape architecture, point to your garden and say 'How much for a garden?' But a better result will be achieved if you become involved with the design process. With a view to increasing the capital value of your property, we recommend commissioning a 'published designer' for the work - a designer whose work has appeared in a design magazine (eg Garden Design, Landscape Design, Gardens International, World of Interiors). It is the same with paintings: if you buy something you like it will give you pleasure. But if you buy a painting which has been catalogued in a gallery exhibition it will command a price in the art market.
Employing garden designers
You can find the names of designers from our directory, from magazines (eg The Garden), from the Yellow Pages or from professional organisations such as the Society of Garden Designers (SGD) or the Garden & Landscape Designers Association of Ireland. One can then request copies of the designers brochures, meet them and look at their portfolio of drawings and photographs. As part of the preliminary discussion you should say how much you wish to be involved with the design. Many designers will be willing to undertake the design and superintend the construction. On uneven sites it is wise to commission a levels survey before engaging a designer.
If, as we recommend, you become involved with the design, the first stage should be a design meeting. Pay for the designer's time, as you would pay for any professional work, but explain in advance that you would like to have a preliminary concept drawing. This could be done during the meeting or the designer may want to make a charge for additional time in preparing the presentation drawing. Then decide what aspects of the work you can do yourself and what aspects you would like to have help with. The latter might be a compositional idea ('a design'), a planting plan, a construction plan, or help with a garden building. As the work proceeds, you can do some things yourself and take further garden design advice on aspects of the project.
Employing garden historians
If you live in a historic property, it is advisable to take advice from a garden historian or from a designer who also has a qualification in garden history. The historian should investigate estate records and prepare a report with management recommendations. As with your house, full consideration should be given to the existing structure before any changes are made. There are firms with specialist expertise in garden restoration.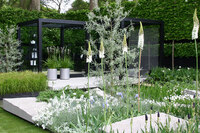 Chelsea Flower Show 2009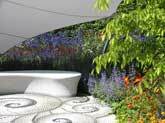 Chelsea Flower Show 2006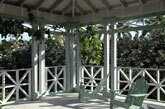 Garden summerhouse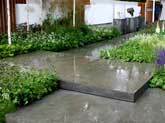 Garden Design at Chelsea Flower Show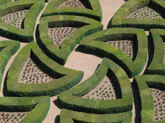 Chateau Villandry, France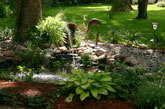 Designed Garden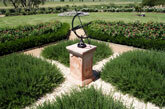 Garden with sun dial